meet our leadership team
founder and program director emeritus
Mary Ellen earned her M.Ed. in Integrative Education with an emphasis on Montessori from Endicott College, and she holds a BS in Child Development from the University of La Verne. She also holds an AMI Montessori diploma for ages 2½ – 7 and a Pan-American Montessori Society diploma for ages 6 – 12. She has a certificate of Pastoral Care from Houston's Institutes of Religion where she studied the Catechesis of the Good Shepherd with Dr. Sofia Cavalletti.
She has lectured widely both nationally and internationally for more than 30 years on multiple topics relating to children and education. She founded a Montessori teacher education institution in St. Petersburg, Russia, in 2007, where she taught every summer for a number of years.
Mary Ellen also has an extensive background as a school consultant and as the co-creator of a successful business in early reading products, the Early Reading Company. She was lead author of the book, Learning to Read is Child's Play, published in 2000.


In addition to her personal projects and work at Authentic Institute of Montessori, Mary Ellen has been active in the Montessori community over the course of her career, serving as Commissioner for Accreditation and Member of the Board of Directors for MACTE from 1992-2000 and holding the position of Vice-President of the International Association of Montessori Educators (IAME) from 2001-2004. Her contributions were recognized in 2013 when she was honored as the recipient of the esteemed MACTE Wisdom of the Elders award.
Mother of three grown children, Mary Ellen's great passion is exploring the deeper spiritual message of Maria Montessori. She loves to read, swim, and hike with friends and family.
executive director
Candace started with aim in Spring of 2021 in what was supposed to be a part time position as the Educational Technology Director. Her drive, organization, and affinity for leadership proved her to be the perfect candidate for the position of Executive Director which she was promoted to in December 2021.
Candace has always had a passion for education and while being in the classroom wasn't her calling, she learned a great deal from her post-secondary education at Eastern Washington University where she earned her Early Childhood and Secondary English Education degrees. She also spent 2 years attending Boise State University earning part of her Master's in Educational Technology degree- a degree she hopes to complete when she figures out a way to increase the number of hours in a day!

After moving to Bozeman, Montana in 2011 Candace worked as a program administrator for a local nonprofit, then took a job at Zoot Enterprises as a developer and later a Quality Assurance Analyst and Business Analyst. After the arrival of her two children, Audra and Wade, Candace decided to put her career on hold - only to capitalize on her "extra" time to write and create a preschool curriculum for her children, which she also sells online.
This time with her children reignited a love for education, curriculum development, and technology, which eventually led her to where she is now- helping to lead a team that develops curriculum and programs for other people that love children and their many gifts!
Karen is AIM's Program Director. She has been working at AIM since 2018 as the Level Coordinator for Early Childhood, Internship Coordinator and Residency Instructor. Before that, she owned & taught at her own Montessori school in rural Montana. She has a Bachelor of Music in Music Education, an Early Childhood certificate and a Master's of Education in Advanced Montessori. Karen is newly certified in American Sign Language.
She has taught music in the public-school sector in addition to teaching in Montessori classrooms since 2007 both in Rhode Island and Montana. At AIM, she works with interns, observes Montessori classrooms, and participates in webinars.


When she is not working, she can be found gardening, trail running and cooking. She enjoys long walks with her dog, Jax and camping trips with her husband.
marketing & communications director
Carolyn holds a bachelor's degree in art history from The Ohio State University and advanced degrees in art history and American culture studies from Bowling Green State University. She has been teaching courses in the humanities at the college level since 2006 and has been a marketing professional for over a decade.

Passionate about supporting Montessori educators in their journey, Carolyn has been an active contributor to Montessori schools since 2013. Her roles have included serving as a marketing and admissions coordinator, a board member, and a volunteer.

At home she has the honor of raising two fiercely independent children who began their Montessori journey as infants. Her husband holds a Montessori Secondary Credential and has led and founded Montessori adolescent programs in Ohio and South Carolina. Carolyn has been promoting Montessori education as part of the AIM team since 2022

meet our admissions team
registrar & admissions officer
Randall holds a bachelor's degree in German from Carroll University (Waukesha WI). He
received his Montessori early childhood teacher certification from American Montessori Internationale (AMI) in 1977 and taught in multi-aged Montessori preschool classrooms for sixteen years.


In 1986 he received the Master Teacher diploma from the Pan American Montessori Society after conducting numerous teacher training courses with his mentor Dr. Elisabeth Caspari, who was a friend and student of Maria Montessori.


In 1993 he left the classroom to focus on developmentally appropriate early reading instruction as a reading coach, consultant, and seminar leader. Randall finds great satisfaction in the many opportunities he has each year to deliver the Montessori message and methods on early reading instruction to parents and to public and private school teachers throughout the country.


In 2012 Randall joined the faculty of Authentic Institute of Montessori as assistant program director. He is currently the Aim registrar and admissions officer.
student financial services coordinator
Sandra learned about Maria Montessori's work decades ago and is convinced that we all have an inner child needing the Montessori experience.

She began working for aim in 2020, helping to develop the financial services area. She lives in Bozeman, Montana, with her husband, William, and basil, parsley, chives, tulsi, rose geranium, lemon tree, chickadees, warblers, bunnies, and other friends.

Like many Montanans, she has had diverse experience as the opportunity or need arose: irrigation wheel lines, ranch cook, writer/editor, publishing production/project management, database troubleshooting, and land subdivision preliminary plat creation. What else would one do with an English major and philosophy minor Bachelor of Arts degree?

When she is not managing tuition payment plans and assisting students and schools with navigating our financial system, she and William love to take their Class B RV traveling home to explore Montana and beyond.
sales and customer service manager
Kirsten joined the aim Team in March of 2022. She has a bachelor's degree in Anthropology from the University of California, Santa Barbara, and a Multiple Subject Teaching Credential from San Francisco State University. In addition to her background in education, she has worked at a University, sales and the hospitality industry.
After college, Kirsten and her husband spent three months back packing through Europe and caught the "travel bug." She has spent the past five years traveling with her husband, 3 children and their dog in an RV. They have been to 49 states as well as 9 of the Canadian Provinces(although home is on the Central Coast of California). She believes travel is one of the best educational experiences and feels blessed to be able do this with her family.
meet our infant toddler faculty
infant-toddler level coordinator
Nancy McNabb is a parent of four adult children, a grandparent of nine grandchildren, a Montessori teacher and school administrator, a Montessori consultant and parent coach. She holds a Bachelor of Science degree in Psychology and a Master's Degree in counseling from Florida State University. Her love for children led to her pursuing the Montessori Early Childhood certification where she was trained by Dr. Elizabeth Caspari and Mary Ellen Maunz in 1983.
Upon graduation, Nancy founded her first school in the Twin Cities and later taught in and directed a large Infant/Toddler Community. Being in the classroom with these young children inspired Nancy to complete her Montessori Infant/Toddler certification with the American Montessori society in Boulder, Colorado in 1994. She has taught in and been the administrator of two other successful Montessori schools in Montana over the past 39 years.


Nancy helped to develop the Montessori Infant/Toddler Teacher Course for aim which launched in September 2021. She is the main instructor of the course, and oversees and mentors the students and interns. She is delighted to work for aim fulfilling a long-time goal of training teachers and parents to observe children, prepare the environment and themselves to meet the children's needs, and to become loving, peaceful, and positive role models for the children in their lives. 


In her spare time Nancy enjoys gardening, taking walks and playing with her nine grandchildren.
meet our early childhood faculty
early childhood level coordinator
Kara is the Level Coordinator for Early Childhood. Before working at AIM Kara received her Montessori training through Age of Montessori (AIM) and started her teaching journey. She taught in Montana as well as Colorado.

In her time in Colorado Kara had the wonderful opportunity to help open a new Montessori school with the goals and passions to have a truly authentic and positive cultured school .Kara has visited Mexico and Honduras to visit schools in several different rural cities within both countries. In those schools she worked with teachers to empower them to teach the children with all their passion as well as provided them with new materials for their classrooms.

Kara has had a passion for children since high school. She discovered the Montessori philosophy and began her journey leaning and developing herself as a teacher and guide to the children and later on other teachers as well. She hopes to inspire and empower more teachers as she works at Authentic Institute of Montessori.

Outside of school, you can find Kara looking for adventure outside, climbing cliff sides, and enjoying time with her husband, two kids, and family dog, Whiskey River.
early childhood instructor
Diana lives in North Carolina where she has continued to work for Age of Montessori since 2012.
From 1975, after reading her first Montessori book --"Her Life and Works" while pregnant with her first child, Diana has taught in many Montessori classrooms across the country, in both private schools and public Montessori.

The opportunity to continue sharing the Montessori message and help with the training of Montessori certified teachers came after her retirement from public Montessori—what a blessing that was!
She loves to be outdoors in nature, and to spend time with her two adult children and grandchild.
early childhood instructor
Liz currently teaches in a primary classroom at King's Wood Montessori School in Foxboro, Massachusetts. She lives in Sharon, Massachusetts with her husband where they raised two children, a recent college graduate and rising college junior. Liz holds a M.Ed. in Montessori Education from Xavier University, a Montessori Early Childhood Certification from aim, and a B.A. in U.S. History from Central Connecticut State University. Her experience as an educator spans over 20 years both as a high school teacher, and for the past 11 years in an early childhood Montessori classroom. 
In her free time, Liz loves to read, hike, practice yoga, travel, cook, and spend time with family and friends. She is also a huge Boston Celtics fan!
early childhood instructor
Maleah has been teaching at the Montessori School of Yakima in Yakima, WA since 2016. She holds a Montessori Early Childhood Certification from aim., a M.A. in Environmental Education from California State University of San Bernardino, and a B.S. in Recreation Management from Central Washington University. She has worked at a variety of summer and environmental education camps and transitioned into teaching after her daughter began her Montessori education at age 5.
Maleah lives in Yakima with her husband and their daughter. They spend most of their summer and many weekends in the woods at camp. In addition to sewing things for her classroom, Maleah loves hiking with her family, skiing, playing music, and reading.
online faculty advisor
Salli was born and raised in Nashville, Tennessee. Her husband's career moved them to California and Georgia. After returning home, she began her Montessori career in January 2018 as a Lead Primary teacher. She completed the Authentic Institute of Montessori Early Childhood certification in June 2019. Salli has a bachelor's degree in Public Relations from the University of North Alabama and a Masters of Art in Teaching from Austin Peay State University.
Salli enjoys biking, swimming and anything outdoors with her husband, son and daughter. They enjoy beach trips to Seaside, Florida any time of the year.
online faculty advisor
Heidi grew up in Lincoln, NE but lived in multiple states before settling in her current location of Helena, MT. Heidi has a bachelor's degree in political science from the University of Nebraska and a Master of Social Work degree from the University of Wyoming. She spent many years as a child and family social worker as well as teaching social work students before finding Montessori when researching preschool options for her daughter. This discovery led to her own Montessori journey.
She completed her EC Montessori certification in Kalispell, MT in 2009 and worked in several Montessori preschools in Helena. She was the teacher for the first ever public Montessori preschool in Montana which was funded by the MT Legislature. She went on to obtain her Elementary I certification from Authentic Institute of Montessori and taught a lower Elementary class at a private Montessori school in Helena. Heidi currently is a substitute teacher for the public elementary Montessori teachers.

Heidi, her three children (2 of them adults) and husband love to spend time in Montana's beautiful outdoors skiing, mountain biking, hiking, and sometimes relaxing in a hammock.
meet our elementary faculty
elementary I & II level coordinator
Suzanne Tipton found Montessori while working as a high school Math & Science teacher in Thailand. She completed the Lower Elementary course with Age of Montessori and led her own Lower Elementary classroom at Montessori School of Louisville for four years. She made the difficult decision to leave the classroom in pursuit of her passion for training teachers.
Montessori education changed her life and she is eager to help others realize the beauty of this style of teaching. She lives in Tennessee near her niece, Kathryn, and nephew, David Michael, whom she adores wholeheartedly. (They think Auntie Q is a party!)
She also loves to draw, travel, read, scuba dive, hike, camp, and especially cooking. She has been working on writing her own cookbook for a few years now so if you are interested in vegetarian recipes, look no further!
elementary I & II instructor
Janet Nordemann began her career in education in 1971 in a traditional school in the St. Louis, MO area.

In 1976, she discovered Montessori and in 1980 she received her AMS MS Montessori Elementary 6-9
certification. Recently, she earned her Montessori Elementary 9 – 12 certification from Age of Montessori (now aim). In 2000, she became certified in Gifted Education. After teaching 40 years in both lower and upper elementary and in a gifted program, she retired from the classroom in 2011.

In 2011 Janet joined the Board of Directors for Authentic Institute of Montessori and served as a volunteer. in 2015, she began working at aim in the elementary teacher training program. She's had many meaningful moments teaching, one being the two weeks spent in Russia teaching adults about Montessori. Mentoring and advising teachers who are taking their Montessori training is the highlight of her career.

Montana is now her home where she lives with her husband. She likes traveling, going for walks or soaking in the beautiful Montana hot springs. She enjoys reading history books, biographies, and the occasional historical fiction novel. She is a lifelong learner who is grateful for the opportunities she's had to continue learning through her work and recreation.

elementary I & II instructor
Karla is a part-time instructor for Age of Montessori, where she has trained teachers in 2 upper elementary residencies, worked as a mentor and co-led webinars on dyslexia and teaching Montessori online during the pandemic.
Karla received a bachelor's and a master's degree in special education from Florida State University. She has over 40 years of teaching experience in both regular and special education, and during that time continued her studies in educational research, brain-based learning and obtaining her Montessori certification for ages 6-12.
During her last 15 years of teaching, Karla taught in a public Montessori school in Jacksonville, Florida. She retired in June of 2021 but continues her work with aim and as a reading tutor in a Title 1 elementary school.
When she is not pursuing her educational interests, Karla enjoys gardening, travel, cooking, Pilates and spending time with family and friends.
elementary I & II course assistant
Amy grew up on Alabama's Gulf Coast, spending most of her childhood on or near the water. She studied fine art in college and later built a successful business photographing weddings using medium format film. While working as a photographer, Amy also began to teach art in community centers, museums, and as a volunteer in a public high school. Her love of teaching grew, and she began to study various alternative approaches to education. She moved to Boston and worked at a large homeschool resource center, working with children of all ages. There, Amy continued to learn about different approaches to education, and her love for and interest in Montessori grew.
After five years in the snowy Northeast, Amy returned to the South and settled in Florida, where she began working as an assistant teacher in a Montessori elementary classroom. She enrolled in teacher training and is now in her fifth year as a lead teacher in a 6-12 class. Amy views teaching as spiritual work, work which calls us to connect meaningfully with the children in our care, to cultivate classroom communities in which every child feels valued, and to nurture a deep love of the world we live in.


In her free time, Amy continues to enjoy film photography, as well as singing, kayaking, curling up with a good book, watching old movies, and going to the beach. She lives outside of Orlando, Florida with her husband and two daughters.
online faculty advisor
After completing college, Fana discovered Montessori as a teacher in an early childhood classroom. She was immediately convinced by the method and trained with Authentic Institute of Montessori in Early Childhood and Elementary I.

She also holds a M.Ed. in Curriculum and Instruction and a B.S. in Education K-8 from Montana State University. Fana has always had a passion for teaching and has been in a Montessori classroom since 2015. Currently, she co-teaches in a Lower Elementary Classroom in Honolulu, Hawaii.


In her free time, Fana enjoys traveling the world, surfing, hiking, cooking, and spending time with family and friends.
online faculty advisor
Greg began his interest with Montessori after enrolling his son into the Toddler program at the local Montessori school. While finishing up his bachelor's degree through Montana State University he was offered a part-time job at his son's school as a office and classroom assistant.
Over the next few years the job grew offering him experience in the Infant, Toddler, and Early Childhood classrooms. Along with learning the business side of how to operate a non-profit Montessori, he continued to be amazed at the Montessori philosophy and what the curriculum had to offer. When the school's director offered the opportunity to start an Elementary program he jumped at the chance and enrolled in the AIM certification program. In August 2022 Greg gained his MACTE certification in ELI and ELII.

Greg guides the combined Lower and Upper Elementary class at Montessori Island School in Livingston, MT. In his free time Greg enjoys spending time in his garden, floating the river, exploring the outdoors with his family and sitting down with a good book.
meet our video production team
director of broadcast and video production
Cecelia is passionate about video production as the most effective means to make Age of Montessori's teacher training available to the widest audience, with the highest possible production quality for online training. She has been behind the camera for over 20 years, working with full studio crews and on-the-road productions, including many years of project management experience.

At aim, Cecelia has consistently raised production standards for talent presentations, equipment acquisition and broadcast quality. Her rationale is that the world's best Montessori teacher training deserves the best possible professional image on-screen. The process of continuous improvement is reflected in ongoing recruitment and training of production talent, including drawing from MSU's School of Film and Photography.

On off-hours, Cecelia enjoys gardening, interior design projects and learning new video tech software & hardware.
broadcast AV coordinator
Jared started at Aim in April of 2022. Before he was hired as a full-time employee, he had helped with a few webinar productions as a camera operator. He was then brought on out of a desire to expand content production to the realm of live streaming and podcasts. After successfully live streaming a couple webinars, it was time to start gearing up for the 2022 virtual residencies.
Jared contributed to the success of the Elementary and Early Childhood residencies. Jared is now in full editing mode, with plenty of video lessons to edit from the residencies. He will also continue to live stream and help with the production of other video content.


He had a passion for filmmaking practically as long as he can remember. It began as a fun thing to do with his twin brother, recording on their parents' camera. It then morphed into making YouTube videos, and eventually attending Montana State University and graduating with a Bachelor of Arts in Film.


In his free time, he enjoys watching movies, playing video games, and disc golf.
meet our support team
compliance/content specialist
Karen Campbell is a lifelong learner with over 27 years of experience in teaching adolescents and college students. In addition to holding PhD, MEd, and BS degrees in Education, she has taken Early Childhood Montessori training and parented her own Montessori child.

A longtime student of the Montessori method, she has worked at aim since it started in 2011.

Karen lives on a mountaintop in southwest Montana surrounded by the beauties of nature. She enjoys feng shui, music, and being in the great outdoors.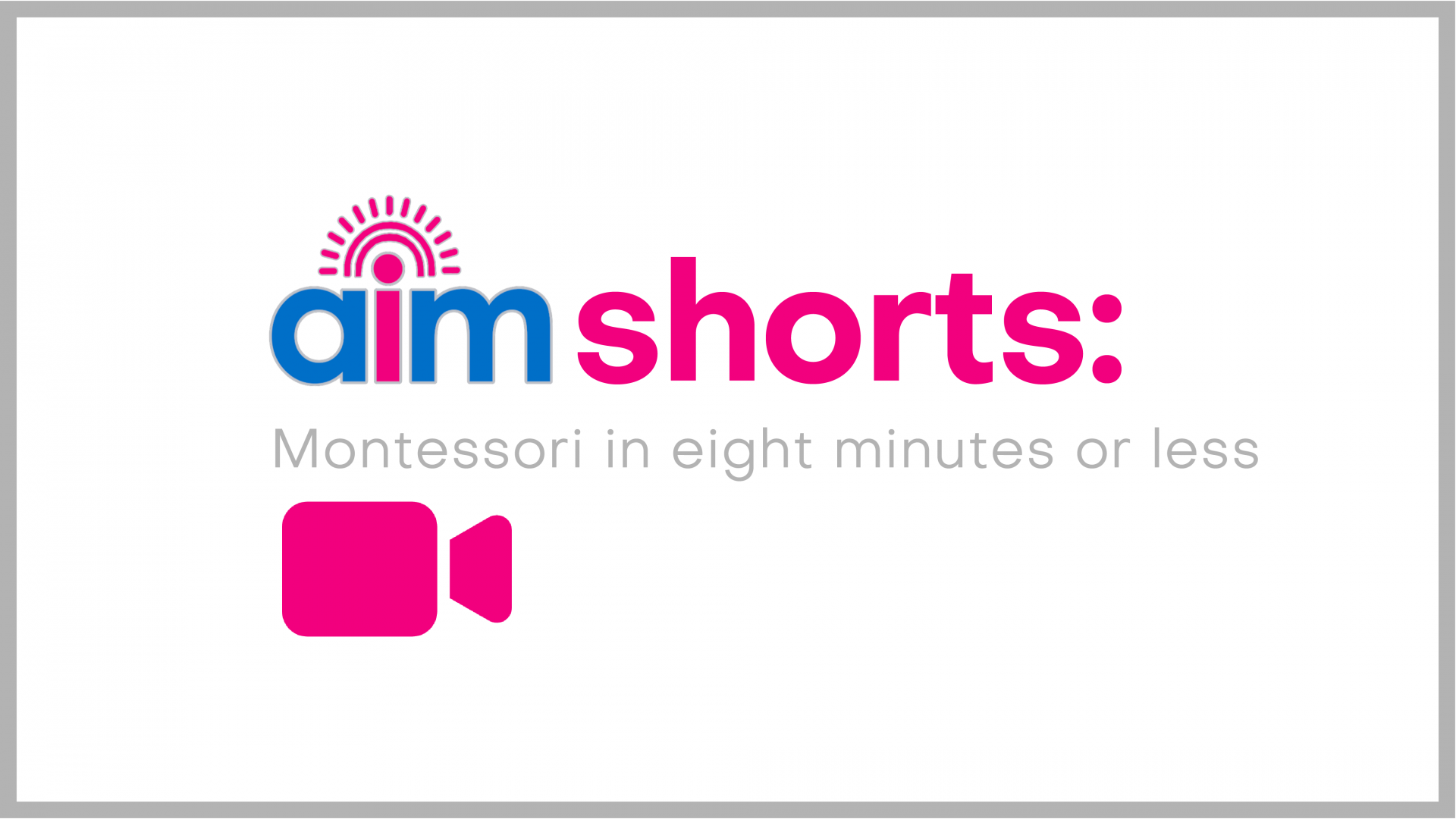 Welcome! Please share your name and email address to enjoy this AIM Shorts collection